Corporate Gifts
Vermont Balsam Holiday Wreath Corporate Gifts
<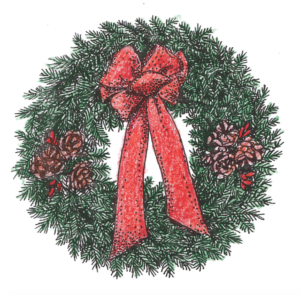 Let us send your holiday greetings with a gift of natural beauty from northern Vermont. A Balsam Fir Wreath makes a great business gift. The moment the box is opened the wonderful fresh scent of balsam fir fills the air. The deep green balsam, set off by the Christmas red bow and natural cones, is a perfect expression of the holiday season.
"Now it feels like Christmas," many of our customers have said after receiving their wreath. Whether you send the wreath to an office to be enjoyed by all the staff, or directly to the home of your client, business associate or customer, along with your personalized message on one of our unique Anna Baker gift cards, a balsam wreath is a welcome addition to the holidays.
It's easy to have us take care of your Christmas gift list. Just send us the names and addresses of the people you want to receive gifts, along with the gift card messages, and we'll take it from there. Let us know when you would like your gifts to arrive and we will do our best to accommodate you.
You can download the attached forms and either send them to us with a check, or fax them to (802) 525-4786 and send a check in the mail. We prefer not to take credit cards for quantity orders because we don't like paying the 3% fee to the credit card company, so just get us a check before we ship.
We'd like you to fill out the cover page, but you can send us the list in any way that is convenient for you. Just make sure to include all the information on our form — name, street address, city, state, zip, phone if possible, and gift card message. Don't hesitate to call and talk to us. We are a small office and we are happy to work with you.
Please order by November 20th for quantity discount.
Quantity rates for orders of 12 or more
22″ Balsam Wreaths decorated with a red bow, cones and berries.
12 – 24 $42
25 Plus $41
Add $3 shipped west of the Mississippi River.
Download Corporate Order Forms
Cover Letter (PDF format)
Corporate Order Form (PDF format)